About Inter-Continental Mercantile (ICM)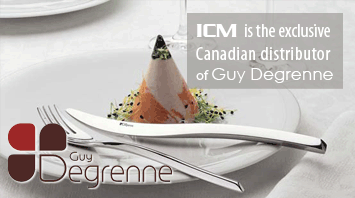 Established in rich traditions since 1973, Inter-Continental Mercantile (ICM), has continuously offered an extensive range of high quality crystal and crystalline, non-leaded stemware, giftware, barware, casual and formal dinnerware, fine stainless steel serving pieces and bar accessories in both modern and traditional designs to satisfy your customers' most discerning tastes.
In 2012 ICM introduced the highly acclaimed and award winning Rosanna collection to Canada. Rosanna is a well-known author and designer featuring pedestals, entertainment accessories, designer bags, and dishes that will make entertaining feel effortless. All of the collections are based on family values, tradition, community gathering, and beauty in everyday life.
Some of the new lines introduced this year include, Luzerne/Brilliant dinnerware, made of the finest stoneware and new bone China. Zebag wine carrier that converts to a wine rack, designed in France. The Brugo travel mug, which is leak proof, and has the PTZ, Patented Temperature Control Zone. VinOice, wine chiller which is recognized as the leader in chilling the wine from the inside. Traditional Wine rack, imported from England, using the finest quality wood from Sweden.
We are well known for our famous brands, such as Vinturi, Glencairn, Brilliant, VinOair, Cork-Pops, and wine Away.
We are also the proud exclusive Canadian distributor of the famous Guy Degrenne designer collections, featuring both modern and contemporary. Registered in time, affordable to all, the Guy Degrenne products can be used from breakfast to dinner, any day of the year, to make each and every moment memorable.